Sarah Grey

Hits: 1722
Why Is My Kindergartner Being Groomed for the Military at School?
Sarah Grey, Truthout | Report

When he got home from Iraq, Hart Viges began sorting through his boyhood toys, looking for some he could pass on to his new baby nephew. He found a stash of G.I. Joes - his old favorites - and the memories came flooding back.
"I thought about giving them to him," he said. But the pressures of a year in a war zone had strengthened Viges' Christian faith, and he told the Army that "if I loved my enemy I couldn't see killing them, for any reason." He left as a conscientious objector. As for the G.I. Joes, "I threw them away instead." Viges had grown up playing dress-up with his father's, grandfather's and uncles' old military uniforms. "What we tell small kids has such a huge effect," he told Truthout. "I didn't want to be the one telling him to dream about the military."
As the mother of a 6-year-old, I know what he means. My partner and I, as longtime antiwar activists, work hard to talk to our daughter about war, violence and peace in age-appropriate ways.
Seth Kershner & Scott Harding

Hits: 2630
Do Military Recruiters Belong in Schools?
By Seth Kershner & Scott Harding -
The United States stands alone among Western nations in allowing military recruiters to work inside its educational system. Section 9528 of the 2001 No Child Left Behind Act requires that public high schools give the military as much access to campuses and student contact information as is given to any other recruiter. However, University of Kansas anthropologist Brian Lagotte finds that school officials do not fully understand this policy and often provide military recruiters unrestricted access to their campuses. Many schools allow military recruiters to coach sports, serve as substitute teachers, chaperone school dances, and engage in other activities. In some cases, recruiters are such a regular presence in high schools that students and staff regard them as school employees.
The military does not advertise what it is doing in public schools. But for the past four years, we have been researching those who make it their business to closely monitor the actions of military personnel in schools: parents, students, military veterans, and citizens affiliated with the grassroots "counter recruitment" movement. Many of them told us that state education commissioners, district superintendents, school principals, and other policymakers react with surprise at their efforts to rid schools of the undue influence of military personnel. In fact, most public officials are unaware of the extent of the military's presence in education settings and the ways in which the Pentagon can access private data about high school students. Until now, there has been a lack of hard data describing the extent of military involvement in schools.
Last year, in response to a Freedom of Information Act request, the U.S. Army provided us with documents about recruiter activities in Connecticut high schools during the 2011-12 academic year.
Seth Kershner

Hits: 1368
America's Tween Soldiers
Seth Kershner -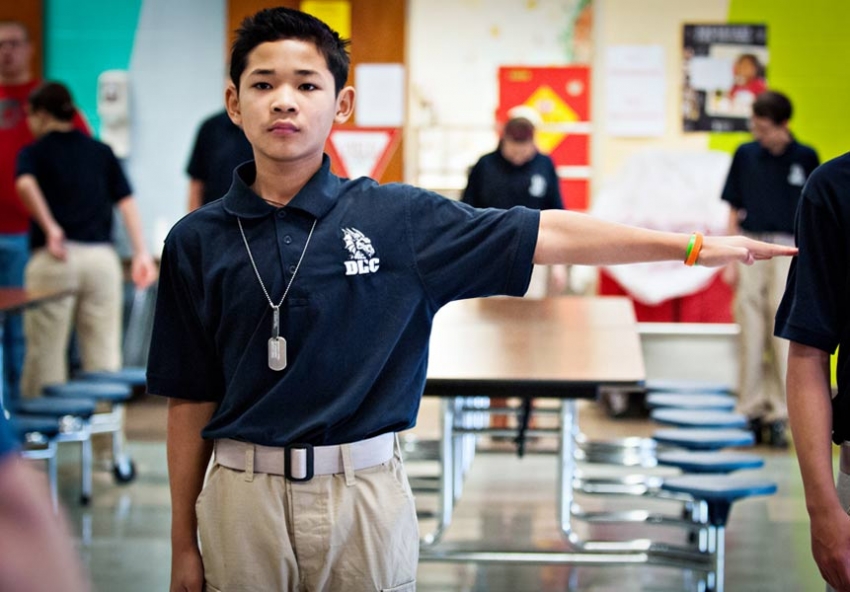 Last year, Henry F. Moss Middle School in Bowling Green, Ohio, offered students a brand new course. And, as a headline in the local newspaper proclaimed, this was "not your traditional class." For starters, the teacher—an army sergeant—had told the Bowling Green Daily News that one of his goals was to expose these seventh- and eighth-graders to "military values" that they could use as "building blocks" in life. To that end, students in the class earn military style ranks, engage in army-style "PT" (physical training) and each Wednesday, wear camouflage pants and boots.

This is the Moss Middle School Leadership Corps, part of the growing trend of military-style education for pre-adolescents.

Middle school military programs are younger cousins of the Junior Reserve Officers' Training Corps (JROTC), a Pentagon program taught by retired military officers and present in more than 3,500 high schools nationwide. Although there are strong similarities with JROTC— military-style uniforms, close-order drills, a curriculum that emphasizes patriotism and military history—the key difference is that JROTC is supported by federal funds and middle school military programs are not, by federal law. That means the continued existence of the middle school programs depends on state or district funding and, in some cases, charitable contributions.

Although the localized nature of the programs and the variety of names they go by—most commonly "leadership corps" or "cadet corps"—make them difficult to quantify, a review of programs by In These Times in more than a dozen states found that there are at least 97 public middle schools currently offering military-style education.

Read more on In These Times