The Tragic Death of Brian Arredondo
Linda Pershing, with Lara Bell -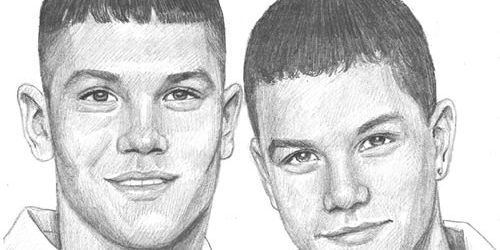 Brian Arredondo never really recovered from his brother's death in the Iraq War. When they were kids, Brian adored his older brother Alexander and tagged along with him whenever he could. They were often seen playing together in parks and schoolyards in communities surrounding Boston, Massachusetts, and Bangor, Maine, where they grew up.
As teens the two boys were perfect targets for military recruiters: first-generation Americans on their father's side (he emigrated from Costa Rica), working-class youth (Alex attended a technical high school where much of the curriculum focuses on job training), living with their mother after their parents divorced when they were young. Promises of career training, male camaraderie and "becoming a man," appeals to patriotism, a $10,000 signing bonus, and funding for college enticed Alex Arredondo to join the marines, just a month before September 11, 2011.
Brian was distraught and seemed to lose his focus and motivation when Alex enlisted. Shortly thereafter, he dropped out of high school at the beginning of tenth grade. On August 25, 2004, a sniper's bullet to the head killed Alex during his second deployment to Iraq. Brian's world fell apart. On the day Alex was killed, military officials came to his mother's house in Bangor to notify the family. Brian, 17 years old at the time, was home alone. He guessed why they were there, but they wouldn't tell him the news until his mother, Victoria Foley, arrived. As they waited around the corner in the government van, Brian got an emotional call from his father, Carlos Arredondo, who was living in Florida at the time and had also just been notified about Alex's death.
Brian became desperate, punching holes in the walls as he paced the floor, waiting for his mother to get home. After she arrived, Brian tried to call his father to talk with him again. His distraught stepmother, Mélida Arredondo, answered the phone and told Brian to turn on the television: news coverage of a burning van outside his father's home. Reporters announced that Carlos Arredondo had set fire to the van and been caught in the blaze. In disbelief Brian saw his father on fire, rolling on the ground, trying to extinguish the flames. Carlos lay unconscious in a hospital intensive care, burn unit for two days and nearly died from the incident. Nine days later, accompanied by two medics, he attended Alex's wake, funeral mass, and burial on a stretcher, wrapped in bandages and with a morphine drip to numb the pain. The story made international news.

Eventually, the war in Iraq took the lives of both brothers. Flash forward seven years to December 19, 2011, when Brian's mother and her partner found Brian hanging from the rafters of a shed in the backyard, where he had been living. No longer able to quell his despair, Brian killed himself at the age of 24. Near his body all he left was a copy of an email instant conversation between his stepmother Mélida Arredondo and a marine in Alex's unit, who had been at his side when Alex died. Brian committed suicide the day after U.S. troops were "officially" withdrawn from Iraq.  Perhaps he couldn't face the fact that, unlike other soldiers, his brother would not be coming home.


The gross inequality between the rich and the poor in our country define this story. Try to imagine an alternate reality: what if Jenna Bush, the daughter of George W. and Laura Bush, enlisted in the marines and were killed by a sniper's bullet in Iraq?  Imagine her twin sister Barbara struggling with debilitating depression and taking her own life seven years later. Would Bush and his cronies have been so willing to invade Iraq and launch a war if their own kids were going to pay the price? It's unthinkable, of course, because the Bush twins had so many other options: Barbara attended Yale, and Jenna was offered a job as a correspondent on "The Today Show" after she graduated from college. Military recruiters target rural and lower income youth and first-generation Americans who have more restricted access to college and careers.

When soldiers die in battle, we tend to focus on the grief of parents and spouses. Siblings often fall through the cracks. Looking back at the years since Alex's death, Mélida Arredondo commented that Brian's life had been a "downward spiral" of anguish, depression, and self-destruction. Family members repeatedly reached out to Brian and tried to get him professional help for his depression, drug use, and trouble with the law. He accepted his family's legal, monetary, and employment assistance but declined counseling. Instead, Brian put on a good front, smiling broadly and assuring the family that he was doing fine, or that he had made a new start and would do better in the future.

In retrospect, it's clear that Brian was in distress. After Alex's deployment to Iraq and subsequent death, Brian started self-medicating with drugs, which he often hid from his family. With time, his drug usage became more serious. He pleaded with parents and friends to loan him money, which they later learned he used to support his drug habit. He began using marijuana, and then cocaine. After one violent confrontation with the police, Brian was admitted to Bridgewater State Hospital for psychiatric evaluation in April 2011. The clinical evaluation report noted that Brian admitted to using Percocet and heroin at least once a day; hospital intake workers discovered injection track marks all over his arms.

After he was arrested for having an open alcohol container in his car, reckless driving, and several accidents, the state of Maine took away Brian's driver's license. He became dependent on parents and friends to transport him, which made working a job very difficult. On occasion he worked with his father and was employed at a pizza restaurant and as a janitor, but he never worked for more than a few months at a time. For most of the past seven years he was unemployed, which only exacerbated his feelings of helplessness and dependence on others.

This wasn't the first time Brian tried to kill himself. While military officials were at his mother's home, informing her about Alex's death, Brian slipped away and ran into the street, looking for oncoming traffic. Later he told his parents that he wanted to be hit by a car. Still reeling from Alex's death, in 2006 he tried to hang himself with an electric cord but failed when the cord broke. And in 2011, when police tried to arrest Brian on outstanding warrants, breaking in to the backyard shed while he was sleeping, he raised a machete and dared them to shoot him.

His troubled relationships with young women and problems with anger management signaled another facet of his distress. Almost immediately after his brother's death, Brian became involved with a young woman—perhaps to replace his close relationship with his brother. Her father didn't approve, had a violent confrontation with Brian, and got a restraining order to prevent him from coming to their home. Their relationship was rocky and punctuated by abusive and destructive behavior. A second young woman also pursued Brian. There was jealousy and abuse on all sides. There were multiple incidents involving interpersonal violence and destruction of property. Girlfriends and parents called the police, who arrested Brian several times. By 2011, Brian faced a number of misdemeanor and felony charges, which had escalated in the past several years. He was scheduled to go to court on December 21, 2011, two days after he died. His mother recalled that Brian told her that he expected to be sentenced to a minimum of two years in prison, which probably wasn't a realistic assessment. Francis J. DiMento, Jr., his attorney, told us in an interview that he thought it unlikely that Brian would do jail time for these offences (Interview, June 7, 2012).

In response to Alex's death, Mélida and Carlos Arredondo began to speak out about their experiences. They became peace activists and advocates for support services for military personnel and their families. Carlos creates memorials designed to raise awareness about the significance of Alex's life and sacrifice, using his military boots and uniform, medals, large photos of Alex and Brian, and numerous other mementos with personal meaning.  Sometimes he also displays a full-size coffin, calling on viewers to visualize the real cost of war in terms of individual human lives. Mélida and Carlos are well known for their activism in the Boston area, where they have lived for many years. They make it a point to meet with public officials at community events, sharing with them the stories of their sons' deaths and advocating for support services for military personnel and their families. In retrospect, since Brian's death they have worried that they didn't pay enough attention to him, wrapped up, instead, in their grieving for Alex and their dedication to activism. His mother, Victoria Foley, sorrowfully recounted that he seemed depressed and remote in the days before his suicide, and her attempts to get Brian into counseling were unsuccessful. The boys' deaths have taken an enormous toll on their families. The loss has redefined their lives forever, leaving them to deal with the deep despair of losing two children to the Iraq War.

This tragic series of events is a brutal reminder of the devastation that war brings: two young sons dead, with parents and family members left to wade through the unbearable grief, self-blame, devastated lives, and the narrative of youth dashed to pieces by death and sorrow. Brian never really accepted his brother's enlistment in the military or his death in Iraq. In response, his life became a succession of dangerous actions and disastrous decisions, sending him down a path to self-destruction. It's certainly possible to interpret Brian's suicide as an expression of hopelessness. It's also possible to consider that Brian ended his life as an act of resistance, reminiscent of Dylan Thomas' epic admonition to "rage, rage against the dying of the light."

Perhaps—compounded by substance abuse, problems with interpersonal relationships, dropping out of school, and troubles with the law—it was a refusal or inability to accept that the U.S. invasion and occupation of Iraq made sense. Many Americans willingly accepted, or remained silent, when Bush and his advisors launched these foolish wars, and as Obama continues them, increasing drone strikes in the region and ramping up U.S. involvement in Afghanistan while withdrawing troops from Iraq. Many stood on the sidelines watching as other people's sons and daughters—usually the poorest and those with the fewest options—were swept up in the patriotic fervor, recruited by the military, and sent off to fight. Now we pay the price of public apathy and complicity. The deaths of Brian and Alexander Arredondo diminish us all.
source: http://warisacrime.org/content/do-not-go-gentle-good-night-tragic-death-brian-arredondo (archived)
---
Linda Pershing is a professor, and Lara Bell is an undergraduate student at California State University San Marcos. Memory portrait by Gina Johnson, http://operationhometies.com
###